22.12.2019
Cloaked in their white coats, 15 Tulane University medical students conveyed a powerful message in a photo staged at the Whitney Plantation in Wallace, Louisiana.
The students planned the photo, which has brought about cheers across social media, to inspire other young black people to honor where they come from — slave quarters like the Whitney Plantation once was — yet look forward to where they could be, Sydney Labat told NBC News on Thursday. Labat and 14 of her classmates planned a trip to Wallace to take a series of photos at the plantation last week.
"Seeing that many black students in training in one photo was striking. In a place that was dedicated to our ancestors and their struggles," Labat, 24, said. "We knew this photo was going to make people stop … and really think. I can say for myself, I definitely got emotional throughout this experience."
Russell Ledet, a second-year medical student who helped plan the photo, first visited the site with his daughter during the summer, he told the news station.
"I came back and talked about it with Sydney and the classmates. I said, 'We should go in all black and our white coats.' Everybody was on board," Ledet said.
Altogether, there were 16 students who made the 50-mile trek from New Orleans to the plantation Saturday to make the now-viral image possible. As of Thursday, Labat's tweet of the photo had been liked more than 75,000 times and retweeted more than 17,000 times.

Standing in front of the slave quarters of our ancestors, at The Whitney Plantation, with my medical school classmates. We are truly our ancestors' wildest dreams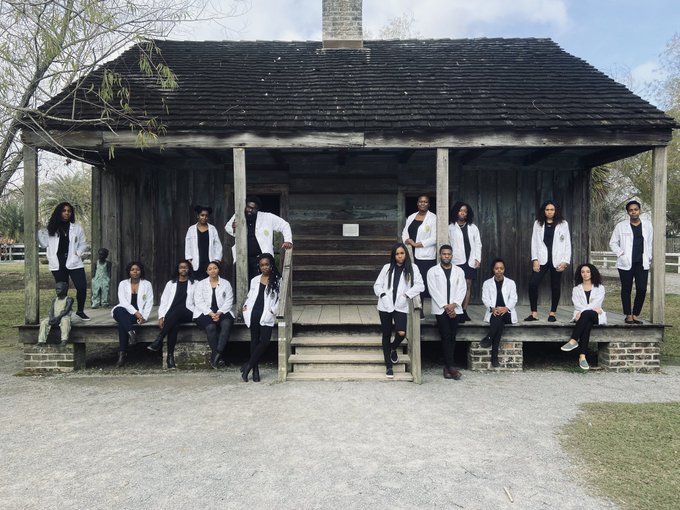 The comments poured in over the last few days, commending the medical students for sharing the inspiring image.