12.1.2020 
Neil Peart, the Canadian prog-rock group Rush drummer, died at age 67, according to reports on Friday, still triggering an outpouring of condolences.
His publicist told the CBC and Rolling Stone that he died on Tuesday in California. Elliott Mintz, a spokesperson for the Peart family told the magazine that he dead brain cancer, of which he was battling for the past three years, 
Rush finished their final tour in 2015. He had joined the band in 1974 as a drummer and also contributed lyrics.
Rush was inducted into the Rock and Roll Hall of Fame in 2013 and the Canadian Rock N Roll Hall of Fame in 1994.
Following the band's final tour, a year later, Peart revealed in documentary "Rush: Time Stand Still" that he was dealing with severe physical pain while performing, reports said.
In an interview in 2015, Peart mentioned that his young daughter Olivia, who was born in 2009, "has been introducing me to new friends at school as 'My dad — he's a retired drummer.' True to say — funny to hear. And it does not pain me to realize that, like all athletes, there comes a time to … take yourself out of the game."
Tributes
Following news of his death, tributes poured in on social media.
If the future's looking dark
We're the ones who have to shine
If there's no one in control
We're the ones who draw the line
Though we live in trying times
We're the ones who have to try
And we know that time has wings
So we're the ones who have to fly.
-Neil Peart, Everyday Glory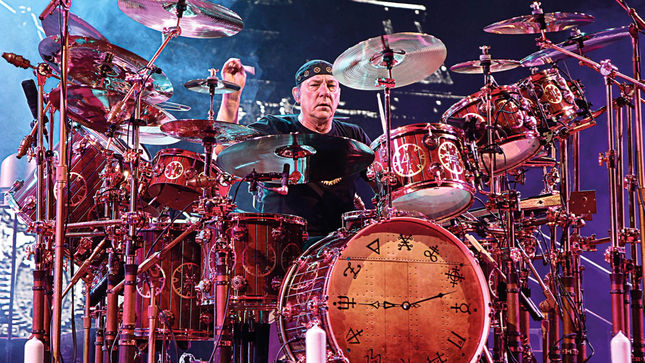 There are drummers and then there is Neil Peart. I believe for most of us he was the "one". I would Rush ( no pun) home from school to play Natural science , subdivisions and numerous other tracks. His playing helped shape the drummer I am today. RIP professor .INeil Peart
Shocked, saddened, crushed to hear that @rushtheband drummer Neil Peart passed away from brain cancer today. My prayers are with his family, Alex and Ged.69410:40 PM – Jan 10, 2020Twitter Ads info and privacy129 people are talking about this
Very sad that Rush drummer Neil Peart has passed away. He was very inspiration to anyone who loved the drums. His talent and musical arrangements will be missed as they have given so much joy to many. May God Grant you rest and peace
Peart's survivors include his wife Carrie and daughter Olivia. Funeral plans are forthcoming, the CBC reported.